Being a frontline worker in healthcare is one of the hardest jobs and during the pandemic when the world was in crisis and living in a time of uncertainty this was even harder. Colleen Brown did not let this change what she is passionate about as a LNA for Cornerstone VNA. Colleen is highly recommended for LNA of the year by Cornerstone VNA's Home Care Management Team. Colleen has been a LNA for six years and joined the CVNA team in 2020. In the time that Colleen has been a part of the CVNA Home Care team she has demonstrated passion and providing patients with the highest quality of care.
Colleen is described as an exceptional, hardworking, caring LNA that no matter the situation she is willing to give it her best effort. Colleen has demonstrated that she is able to provide care for patients that other clinicians often have barriers with. When faced with a difficult patient case Colleen makes it a priority to build rapport with the patient and/or caregiver and do what she does best, provide patients with the highest quality care in the comfort of their own home.
Colleen has made many differences patients' lives this year that stand out. This year was a difficult and challenging year for every patient. Colleen was willing to see patients regardless of their situation and provided care to patients that may have gone without services otherwise. Colleen worked hard to give these patients the opportunity to succeed in the environment they wanted to be in, in the comfort of their own home.
Colleen has been a part of several care teams that have improved patient outcomes significantly and this could not have been done without her dedication. Colleen has received numerous patient compliments and when managers receive these calls Colleen is describe as, "the best LNA they have ever had". Colleen is often requested by patients to be their primary LNA because of the high-quality level of care she provides. Colleen is eager to grow as LNA professionally, learning new skills within her scope of practice and has learned to be a preceptor to new employees.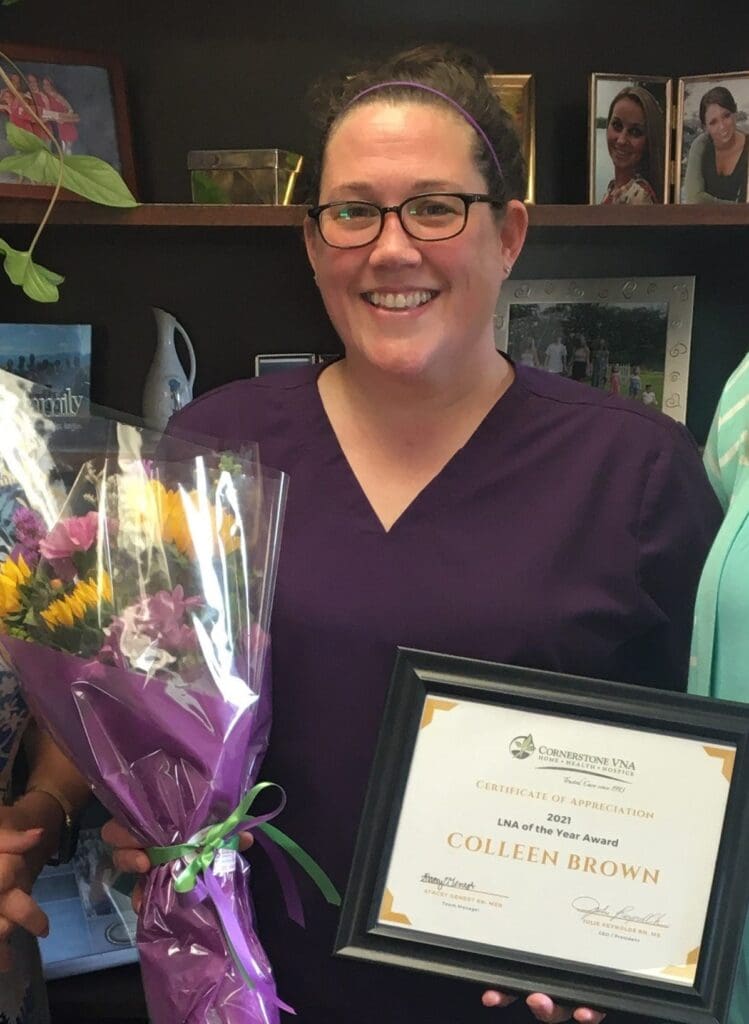 According to Stacey Genest RN, MSN, WCC, OMS, Home Care Team Manager, "Colleen is an exceptional, hardworking, caring LNA that provides high quality care to patients and Colleen is an asset to Cornerstone VNA." Genest Adds, "We are proud to have her on our team!"