Laughter is the Best Medicine!
Family caregivers – keep your sense of humor, manage your stress, and take care of yourself. Join us for this energetic, upbeat presentation with funny motivational speaker, Kay Frances.
Cornerstone VNA is pleased to announce the 6th Annual Caregivers Connect, a special event that focuses on providing support to family caregivers. This free virtual event will take place on Wednesday, May 4, from 10:00am – 11:30am, and is generously underwritten by First Seacoast Bank.
"We are incredibly happy to present our annual Caregivers Connect event, which will be virtual again this year to appeal to a wider audience. Our theme of 'Laughter is the Best Medicine' will most surely resonate with our local family caregivers," states Julie Reynolds, President of Cornerstone VNA. Janice Howard, our Life Care – Private Duty Director adds, "In addition to the supportive and lively discussion, this event will assist our caregivers to experience a sense of camaraderie. It can be very comforting to know you are not alone in your journey as the caregiver of a loved one."
To register for this special event or to learn more, call 800-691-1133 x1109 or visit cornerstonevna.org/caregiver22.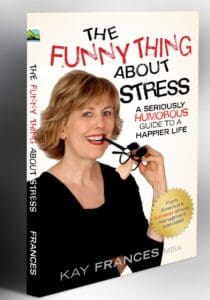 The first fifty registrants will receive a copy of Kay's book, "The Funny Thing About Stress" after their attendance is confirmed on the day of the event.