Longtime Board Member and Board Chair, Susan Gaudiello of Barrington, proudly handed her leadership responsibilities over to new Board Chair, Dr. Archana Bhargava of Durham. Susan will remain on the board for an additional one-year term to support Dr. Bhargava in her new role as Board Chair.
Dr. Bhargava first joined the Cornerstone VNA Board in 2013 and has made significant contributions to advance the mission of the organization. Upon joining the board, she began sharing her passion for Palliative Care and encouraged the board and the organization's leadership team to consider adding this specialty service in 2014. Due to its success, Palliative Care is now one of five distinct programs at Cornerstone VNA. Dr. Bhargava was instrumental in the development of another key program with the establishment of the Kiddie Cornerstone Fund in 2016. This special fund provides support to pediatric patients and their families to promote hope and healing at home.
Dr. Bhargava shares, "I am proud to be associated with Cornerstone VNA and in my new role as the Chairperson of the Board. I hope to continue teaming with the esteemed Board members to help the organization grow and progress further as it continues to provide excellent care to the community."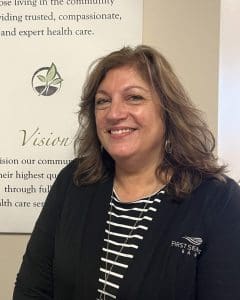 During the annual meeting, the Board welcomed new member, Gina DeNuzzio of Rochester. Gina has worked at First Seacoast Bank since 2018 and currently serves as the Assistant Vice President and Barrington Branch Manager.  She has 21 years of experience in the financial services industry while also fulfilling her personal and professional passion of making a positive impact for behavioral and mental health.  Gina is a certified financial literacy instructor and a graduate of the New England School of Finance. She holds a degree in Behavioral Science, a Mental Health Rehabilitation Technician (MHRT/C) License and a Behavioral Health certification.
Gina shares, "I am proud to be part of an organization that provides a valuable service in the community and join them as a volunteer board member. First Seacoast Bank encourages and understands the importance of volunteering in the community."
According to Julie Reynolds, RN, MS, Cornerstone VNA President/CEO "We have been blessed with a wealth of talent and expertise on our Board of Directors, both past and present. We are grateful to Sharla and Ruth for their twelve years of dedicated service and look forward to celebrating this 110-anniversary momentous year under the steady new leadership of Archana and alongside skilled new board member Gina."The Board also celebrated and said goodbye to two wonderful members who served for 12 years, Sharla Rollins of Farmington and Ruth Henderson of Barrington.  A retired nurse, Ruth served on the Governance, Ethics and Strategic Planning Committees and helped make important decisions through a time of significant growth. Sharla served on the Finance and Strategic Planning Committees and spent many years as Board Treasurer, providing clear and concise updates of the organization's financial reports. The Board appreciates their tremendous guidance and support, and they will be greatly missed.