Life Care is our private duty non-medical program offering supportive services to help you stay independent and comfortable at home. If you desire to age in place, or you are a caregiver in need of support for your loved one, we offer flexible scheduling to meet your needs from as little as once a week to 24 hours per day.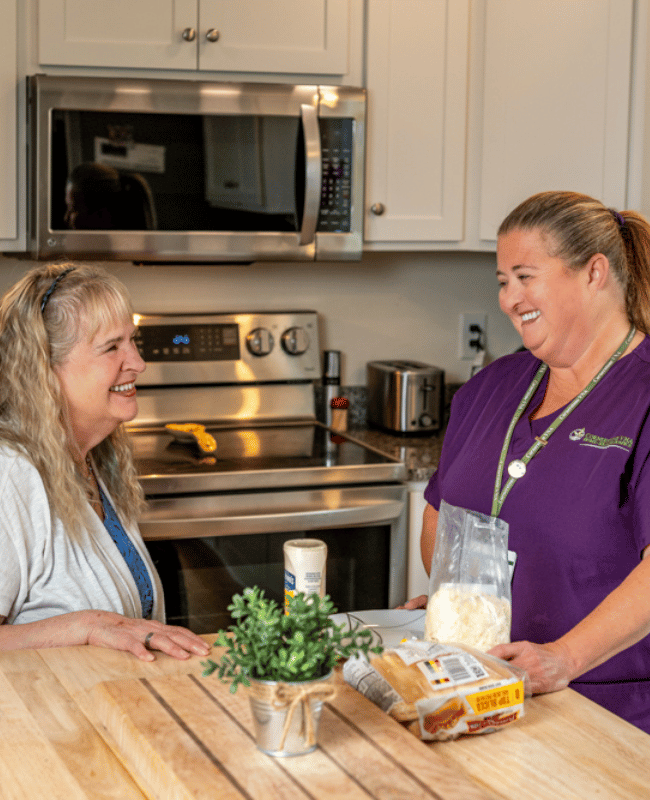 Licensed Nursing Assistant (LNA):
Monitor Nutrition
Monitor Blood Sugars
Monitor Vital Signs
Medication Reminders
Incontinence Care
Ostomy Care
Mobility Assist
Transportation Assistance (using client's car)
Bathing and Grooming
Dressing
Assist with therapeutic exercises
Alzheimer's Disease Care
Personal Care Service Provider (PCSP):
Feeding
Bathing and Grooming
Dressing
Incontinence Care
Cognitive impairment
Transfer and repositioning
Mobility Assistance
Transportation Assistance (using client's car)
Assist with recreational activities
Medication reminders
Monitor diet and eating
Special diet and meal preparation
Errands
Alzheimer's Disease Care
Homemaker:
Light Housekeeping
Change bed linens
Do Laundry & Ironing
Prepare grocery list
Meal planning & preparation
Meal clean up
Care for Plants
Pick up Prescriptions
Grocery Shop
Companion/In Home Provider:
Companionship
Conversation
Assist with recreational activities
Crafts
Puzzles
Listen to music
Play Board Games/Cards
Watch TV/Movies
Read
Prepare snacks
Reminisce
Write letters
Provide appointment reminders
Respite Care
Providing 24/7 care to assist with "aging in place".
Cornerstone VNA offers an annual Caregiver Connect event. Our goal is to connect caregivers with important information, resources and support to help them on their caregiving journey. View our calendar or sign up for our Caregiver Connection e-newsletter to receive alerts about upcoming events. You can also contact us for more information.
Cornerstone VNA offers monthly Caregiver Cafés. Visit our Family Caregiver Support page to learn more.
Specialized Care & Support
Alzheimer's and Dementia Care
Personal Care & Support Care
Telehealth
Homemaking (errands, meal prep, light housekeeping)
Medication Reminders
Anyone who would like private duty non-medical services and lives within our service area is eligible for Life Care.
Typically, this service is best for those who have had surgery, an accident, are living with a chronic health condition, or have a desire to age in place.
Life Care is able to assist people with short-term or long-term non-medical needs.
A Life Care specialist works with individuals and families to determine their needs and develops an individualized program. Ongoing evaluations allow our staff to continually monitor changes and reevaluate the level of care needed.
Frequently Asked Questions
placeholder
Do you provide services 24 hours a day, 7 days per week?
Yes, our Life Care-Private Duty staff is available 24/7. Contact us and a member of our staff will listen to your needs and help you determine the care and support that's right for you.
Will my insurance cover Life Care services?
The Life Care Program at Cornerstone VNA is a private pay service. In some cases, individuals may qualify and can apply for CFI (Choices for Independence), Title XX support, VA benefits, and caregiver support. If you have long term care insurance, your policy may cover private duty services. Contact us to learn more about our pricing structure or if you qualify for support.
Can anyone get a homemaker?
Our Homemakers are available to provide services to seniors and persons with disabilities who live within our service area.
Can you grocery shop for me and pick up my medicines at the pharmacy?
Yes, our Homemakers and Personal Care Service Providers (PCSP) can assist you with grocery shopping, picking up medications, and other errands as needed.
Explore What We Have to Offer Your Loved One