Helping our patients and their loved ones live every day to its fullest is the cornerstone of our Hospice Care program. Our highly skilled team will partner with your physician and other healthcare providers to develop a plan of care that meets your unique needs and honors your wishes.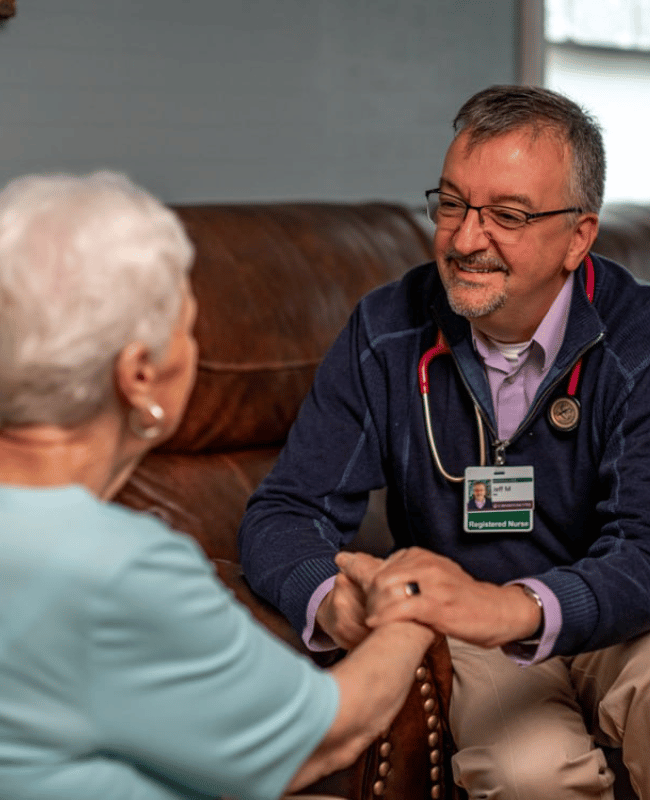 Physician
Certified Hospice/Palliative Care Nurses (CHPN)
Licensed Nursing Assistants
Spiritual Care Providers
Medical Social Workers (MSW)
Volunteers
Available 24 hours per day, 7 days per week.
We are able to schedule a visit with you and your family to discuss the option of hospice.
We are a Pet Peace of Mind Partner, a volunteer program to assist patients with the care of their pet(s) through end of life.
We are proud to be a level five partner with the We Honor Veterans program. This special recognition reflects our commitment to ensuring veterans have access to quality end-of-life care.
Specialized Care & Support
Expert Pain & Symptom Management
Family/Caregiver Support
Advance Directives
Bereavement Support
Grief Support Groups
Hospice Volunteers
Pet Peace of Mind Volunteers
We Honor Veterans Partner (Level 5)
Telehealth
Hospice care is provided regardless of culture, age, gender or financial status.
To qualify, a doctor must certify that you or your loved one has a life limiting illness.
Cornerstone VNA provides care to patients regardless of their ability to pay.
placeholder
What services are provided in Hospice?
Our team includes a physician, nurses, licensed nursing assistants, medical social workers, spiritual care providers, volunteers and bereavement support. Our nurses are available 24 hours a day to monitor and treat symptoms, and will teach you and your family what to expect as the illness progresses.
Who pays for Hospice?
Hospice is a covered benefit under Medicare, Medicaid, and most private insurances. We welcome you to contact us if you need further assistance with understanding your insurance benefit. Our experienced staff is ready to help.
Is it too soon to begin Hospice?
It is never too soon to learn about hospice, even if hospice is not the right kind of care for you at this time. It is best to access hospice services as soon as you are eligible. In doing so, we will be able to provide improved symptom management, and provide guidance and support to you and your family during your end-of-life journey.
Explore What We Have to Offer Your Loved One