Cornerstone VNA is deeply committed to the community and offers local residents, patients, families, professionals and businesses a full scope of programs, clinics and services.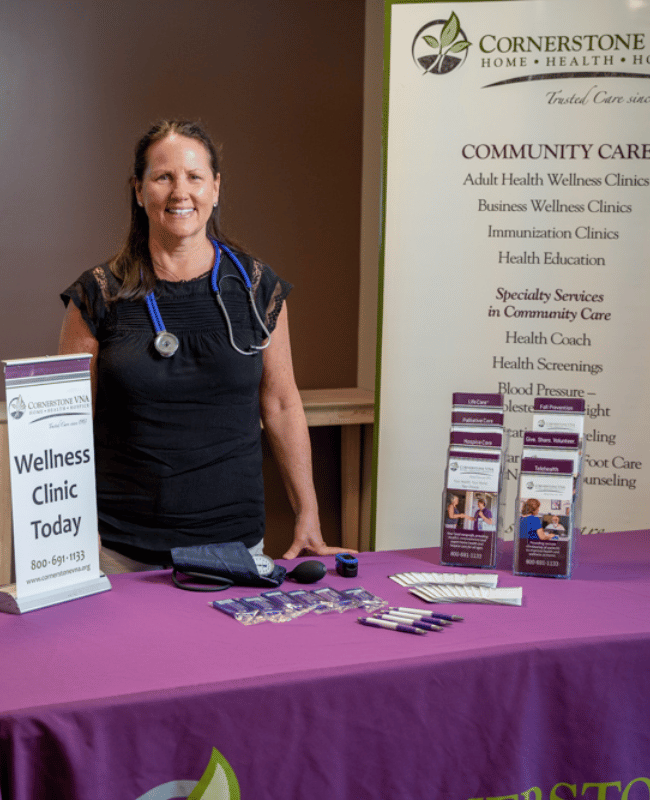 Our Community Care Team includes a Certified Health Coach, Nurses and other clinical experts who provide free programs and services throughout our service area. Explore the many ways that our Team can connect with you and your community.
Specialized Care & Support
Adult Wellness Clinics & Business Wellness Clinics
Medication Counseling
Diet and Nutrition Counseling
Educational Series for community members, businesses and health professionals
Health Screenings

Blood Pressure
Cholesterol*
Weight
Blood Sugar Checks
Foot Care*
Flu Clinics
*there is a small fee for Cholesterol screenings and Foot Care Clinics.
There are no eligibility requirements for Community Care.  Community Groups, Businesses, Housing Groups, etc. can request wellness clinics or educational programs.  Contact us for more information.
Frequently Asked Questions
placeholder
Do I need to sign up for a Wellness Clinic?
For our Wellness Clinics and our Rochester Senior Center Foot Care Clinic, you do not need to sign up. However, for our foot clinic at the Portsmouth Senior Center, you must call (603) 610-4433 to reserve a time.
Do you provide flu clinics?
Cornerstone VNA typically offers Flu Clinics in the Fall, or you can arrange with your visiting nurse to get the vaccine or visit your local pharmacy. Our Wellness Nurse can also provide flu clinics for local businesses. Please contact us for more information.
How do I request an Educational Series presentation?
Visit our Educational Series page to learn more about our available topics and to contact us for more information. Please note that topics can be customized to meet your community group or business needs.
How do I find out more about your community programs and services?
Sign up for our e-newsletter, Well-Connected, to stay informed about upcoming community programs and special community events. Or view our calendar for additional information.
Explore What We Have to Offer Your Loved One