Our Home Care program is proud to offer specialized services and support for you and your family. We have clinical experts ready to meet all of your care needs. Call us today to find out if home care is right for you or your loved one. You can also talk with your provider or hospital care manager about our home care services. You have a choice when it comes to your care at home, ask for Cornerstone VNA by name.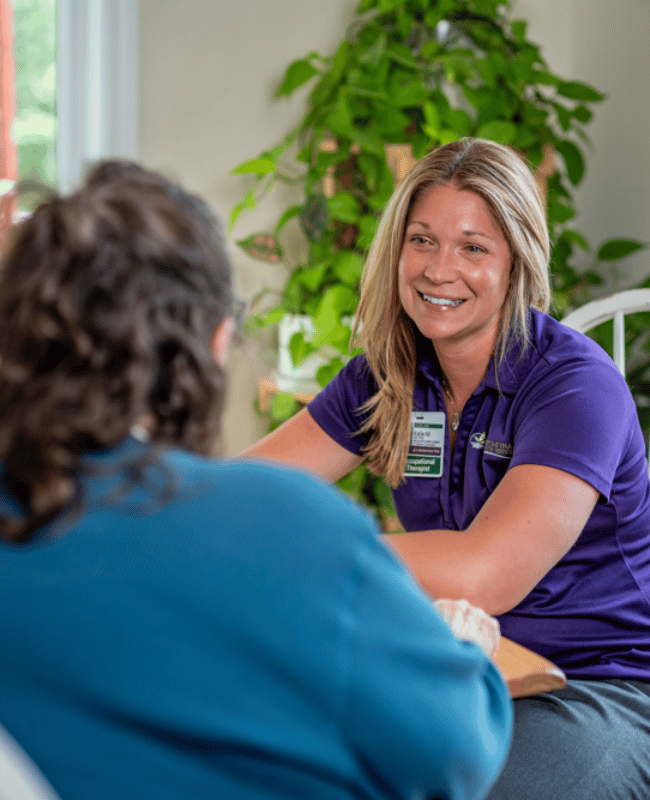 Skilled Nursing (SN)
Licensed Nursing Assistants (LNA)
Rehabilitative Therapies

Physical Therapy (PT)
Occupational Therapy (OT)
Speech Therapy (ST)

Medical Social Workers (MSW)
Volunteers
Our Telehealth program provides an extra layer of support to high-risk patients and helps to decrease hospital readmission for patients with Chronic Obstructive Pulmonary Disease (COPD) and Congestive Heart Failure (CHF).  Our Telehealth Clinical Coordinator has received numerous awards for providing exceptional patient care in the home using telehealth technology.
Our clinicians are trained in a myriad of disease management best practices, including Chronic Care Management.
Our Kiddie Cornerstone Fund provides small gifts and support to young patients and their families.
"A Matter of Balance" is a proven program designed to help people manage concerns about falls and increase physical activity.  8-week balance classes are offered throughout the year and facilitated by trained volunteer balance coaches.  View our calendar for upcoming dates or visit our volunteer page to learn about becoming a volunteer balance coach.
Specialized Care & Support
Certified Wound & Ostomy Care
Specialized Behavioral Health Team
Certified Intravenous Therapy
Certified Chronic Care Management
Certified Lymphedema Specialists
Certified Vestibular Rehab Specialists
Certified LSVT (Lee Silverman Voice Treatment)
Pediatric Care
Telehealth
Palliative Care Consultation
Fall Prevention Specialists/Balance Therapies
Those who qualify meet the following criteria:
A doctor confirms in writing that the individual was examined within 30 days and that they need skilled nursing care. The doctor can be a hospitalist or community-based doctor.
The individual is homebound, which means they have an illness/injury that restricts their ability to leave their residence without the aid of supportive devices or special transportation. They may also be considered homebound if they require the assistance of another person to travel or if leaving home would cause their illness/injury to worsen.
The individual needs only short-term or part-time skilled services.
placeholder
How do I qualify for home care?
In order to qualify for home care, you must meet the following criteria.
You have to be under the care of a physician while you are on home care services.
You require the skills for a nurse or therapist in the home.
Most insurances require you to be homebound. This means:
It is taxing and hard for you to get out on a routine basis.
You need the assistance of a person, device, or special transportation.
You leave the home infrequently for things other than for medical reasons.
What is Telehealth and how do I qualify for it?
Cornerstone VNA offers a robust Telehealth program to be able to provide healthcare services remotely. Our Telehealth Nurse utilizes video conferencing to provide remote monitoring and support of patients. There is no cost for this service. To see if Telehealth is right for you or your loved one, Cornerstone VNA will conduct a patient assessment, particularly with those who have high-risk diagnoses such as Congestive Heart Failure, Chronic Obstructive Pulmonary Disease, Diabetes or those who are at high risk of returning to the hospital. A Telehealth Nurse at Cornerstone VNA will check in on you as needed and help provide services to keep you home and out of the hospital.
What services will I qualify for?
Your hospital, rehabilitation facility, or physician's office will order the services that you need. When a Registered Nurse or Physical Therapist from Cornerstone VNA visits you for the first time, he/she will review what services have been ordered for you and what other services you may need. Services may include Skilled Nursing, Rehabilitation Therapy, Medical Social Work, and/or Home Health Aide services. Qualifications can depend on many things, so be sure to contact us to talk to our clinical experts for additional information.
Explore What We Have to Offer Your Loved One