During the Month of June of our 110th year, we continue our Healthcare Heroes through History blog post series with a focus on the 1960s.
This month, we shine the spotlight on Mr. Raymond Conley, who founded the Rural District Health Council in 1967, a satellite program of the Portsmouth Rehabilitation Center. The Rural District Health Council (RDHC) is an important part of our history, especially since the RDHC merged with Rochester VNA in 2000, which was then followed by a name change in 2013 to Cornerstone VNA.
Raymond Conley's Contributions
In the 1960s, Raymond Conley was the Executive Director of the Portsmouth Rehabilitation Center (PRC) in Portsmouth, NH. In 1966, he proposed that PRC could qualify for Medicare reimbursement for home visits since they supplied secondary services and could contract with existing visiting nurse agencies to provide skilled nursing. After much work, his proposal was approved, and PRC became the first rehabilitation center in the country to receive Medicare Certification. The PRC service area covered Rockingham, Strafford, and Carroll Counties in New Hampshire and York County in Maine.
Since organized visiting nurse services were lacking in many towns, Mr. Conley sought and received grant funding in 1967 to hire a part-time nurse coordinator, Mrs. Cynthia Blood, to organize the Medicare program at PRC. Registered Nurses were hired by the hour to visit patients in areas without a home care agency. In 1968, the Public Health Nurse for Strafford County approached Mrs. Blood with the idea of providing visiting nurse services to residents of Barrington, Strafford, Middleton, Milton, and New Durham. Services would be provided under the umbrella of the PRC and would fill a need to support these five Strafford County towns. As interest grew, the neighboring towns of Northwood, Nottingham, and Deerfield also indicated an interest in being a part of the RDHC. It was felt that $1.00 per capita and a grant of $7,000.00 would be sufficient to fund the RDHC. A warrant was drafted to see if the towns would vote to join the RDHC and raise and appropriate the sum of $1.00 per capita in support of Visiting Nurse Services, and the Selectmen would be authorized to appoint two representatives to the RDHC. On March 18, 1969, the RDHC met and learned that all towns except Milton wanted to join the organization. The total population covered by the services was 6,189. The program officially started on May 5, 1969. During the first year of operation, 1,303 visits were made to a total of 250 people. The Town of Milton would later join the RDHC in 1973, as well as the Town of Farmington.
Rural District Health Council Relocates
On January 11, 1973, it was voted to separate the funds of the Rural District Health Council from those of the Portsmouth Rehabilitation Center. It was also voted to relocate the RDHC to one of the member towns. The RDHC received a grant of $6,000 from the Bi-State Community Home Health Agency to accomplish this goal and officially moved to Farmington on April 15, 1973.
In addition to home visits, the RDHC expanded to include family planning visits, monthly well-child clinics, dental clinics for children ages 3-6, and monthly health screening clinics in several member towns.
For nearly four decades, the RDHC provided much-needed home health and community services to rural towns in NH. In 1992, RDHC changed its name to the Rural District Visiting Nurse Association (RDVNA), and in 2000, RDVNA officially merged with Rochester VNA, and by 2013, the merged organizations became known as Cornerstone VNA.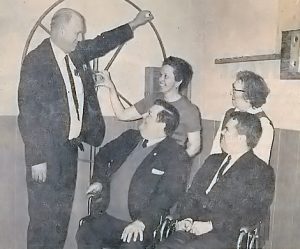 Raymond Conley was truly instrumental in improving services for patients in rural communities and advocating to support those in need. Today, his work continues to be recognized through the American Legion's Raymond K. Conley Memorial Scholarship Fund. His $2,000 memorial scholarship supports students interested in pursuing a degree in physical or mental rehabilitation.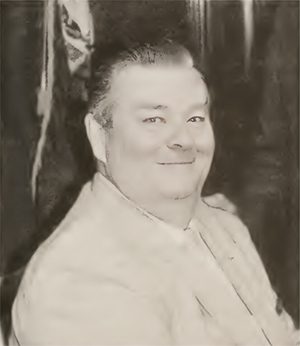 Originally from Springfield, Massachusetts, Ray graduated from Springfield College. After suffering a severe spinal injury as a navy pilot and two years of hospitalization, Ray returned to Springfield College for graduate study in rehabilitation counseling. In 1956, he became a District Supervisor of Vocational Rehabilitation in New Hampshire and also the President of the Paralyzed Veterans of America. He was the Executive Director of the Portsmouth Rehabilitation Center from 1958 to 1970.
Ray was elected to the N.H. House of Representatives in 1970, where he was very much involved with environmental issues. In 1978, he was elected to the State Senate where he spearheaded environmental legislation. He served until 1982, rising to the post of Majority Leader. During this time, Ray was also responsible for the N.H. White House Conference for People with Disabilities and the Governor's Commission on Disabilities.