During the Month of August of our 110th year, we continue our Healthcare Heroes through History blog post series with a focus on the 1980s.
This month, we turn our attention to Ardala Houle, RN, who began working at the Rural District Health Council in 1972. The Rural District Health Council (RDHC) is an important part of our history, especially since the RDHC merged with Rochester VNA in 2000, which was then followed by a name change in 2013 to Cornerstone VNA.
In the mid-1970s, RDHC was in the same building as the old Palmer Hardware Store on South Main Street in Farmington and employed seven nurses, one aide, one physical therapist, two administrative staff, and an executive director. According to a 1975 annual report from the Town of New Durham, NH, RDHC Executive Director, Cythina Blood, RN, shared, "The past year has seen an increase in the services provided by the Rural District Health Council coupled with an increase in the requests for service. As the federal government studies the cost of health care, there is increased interest in home care and preventive medicine as methods of reducing costs and improving health services. The Rural District Health Council continues to qualify as a certified home health agency, implementing procedures to continue to provide quality care."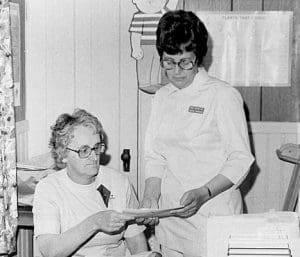 After a few years as a visiting nurse, Ardala was promoted to Supervising Director, a role she held for two years before being appointed Executive Director in 1977. As Executive Director in the late 1970s, Ardala stepped into her new role at a time of steady growth in home health services and rising costs. According to an article in the New Hampshire Sunday News on November 27, 1977, "Advancing technology and increasing health care costs are encouraging shorter hospital stays. Extended hospital care has given way to extended home care. But even the use of our own bedrooms can't protect us from the demon of increasing costs." By this time, RDHC was serving nine towns (Farmington, Milton, Strafford, Barrington, New Durham, Middleton, Deerfield, Northwood, and Nottingham) and caring for over 5,000 patients per year.
In addition to the home visits, RDHC, in conjunction with other local organizations, offered dental clinics, adult physical screenings, family planning clinics, prenatal and parenting discussions, well-child clinics, and help with school and other public inoculation programs.
Throughout the 1980s, Ardala was often featured in newspaper articles as a strong advocate of home health services. She highlighted the critical role the service area towns played in supporting the health and wellness of their residents by supporting the work of the agency.  An increased need for home health services, as well as the rising costs, resulted in increased requests for support from donor towns. In a letter to the editor, Ardala wrote, "This year the agency has been forced into asking its member towns for a substantial increase in the per capita allotment in order to continue to provide the same services and quality of services that we have been providing for 10 years. The per capita has only increased in the 10 years $2.20 and with the inflation rate within the same period of time it can be understood why the increase is necessary. We request that you as a consumer of our services make others in your town aware of the quality of the services that you receive from us and attend Town Meeting and vote for the full appropriation, which is requested for your town, so the services can continue. As an agency who cares for people, we are concerned about what would happen to you if your town chose to drop the services of Rural District Health Council. If this happens, services will cease as of March 31, 1980."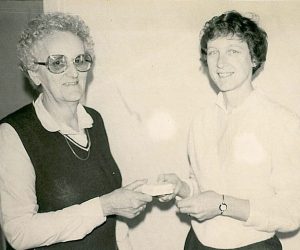 In the mid-1980s, due to a change in payment models, and shorter hospital stays, there was a greater need for more advanced care at home. According to a 1985 news article, Ardala shared, "We are called on to do more high-tech nursing than before. We now do such things as hydration, chemotherapy and drawing blood right in the home." However, changing reimbursement structures created budget constraints for RDHC. In response, Ardala worked with the CEO of Frisbie Memorial Hospital in 1987 to create an affiliation agreement between the hospital and RDHC. Through the affiliation, Frisbie Memorial Hospital would act in a consulting capacity in the provision of marketing, public relations, and purchasing, and RDHC would continue to coordinate home health care for six towns, working closely with the hospital's discharge planner to ensure continuity of care.
By the end of the decade, Ardala was instrumental in launching an appeal in the amount of $16,000 to purchase a computer. The computer, with a home health software package, would allow staff to devote more professional time to patient home visits, better planning, and greater security of records. Ardala continued in her leadership role until the early 1990s and was an unwavering voice for advocating for high-quality health care at home.
A letter to the editor from a Barrington resident sums up Ardala's contributions to RDHC.