We are proud of our music companion volunteer, Catherine Smith for being a 2023 Spirit Awardee. Volunteer NH hosted an exceptionally remarkable evening celebrating volunteerism and some very special volunteers throughout the state Monday, October 23 at the Bank of NH Stage in Concord.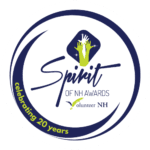 Volunteer NH has been hosting the Spirit of NH Awards as an annual celebration of volunteerism since 2003. This event recognizes volunteers who go above and beyond the call to serve throughout the Granite State, shining a spotlight on the often-unsung heroes among us in front of an audience of their families, friends, colleagues, and the greater community.
Catherine has dedicated nearly two years to her role as a Music Companion Volunteer at Cornerstone VNA, leaving a heartwarming impact on the lives of homebound seniors in the community. As a Companion Volunteer, Catherine brings companionship and music to those who need it most. Her visits are a blend of engaging conversations and delightful piano performances, accompanied by the joyous chorus of her visitees. The weekly interactions are eagerly anticipated and thoroughly cherished.
Catherine's devotion to her volunteer work goes beyond expectations. This summer, the senior couple that Cathy visits celebrated their 60th wedding anniversary and Cathy helped them plan a beautiful wedding song performance. She went on a weekend and provided the music, and the gentleman sang their wedding song in the presence of family and friends. It was a lovely and touching event that they both thoroughly enjoyed, as did all their family.
For the past year and a half, Catherine has been a constant presence in the lives of an older couple, spending an average of two hours each week with them. This consistent companionship has made a remarkable difference, alleviated their sense of loneliness, and created an eagerly awaited highlight in their week. Their family is delighted by the fact that Catherine is there regularly to offer friendship and support.  According to the daughter of the couple that Cathy visits, "She goes out of her way to bring them special things and to visit them, even this week she has summer company, but she came yesterday to visit them!" she added, "They look forward to her companionship so much!"
From the very start, Catherine's exceptional kindness and genuine love for music has shined through. Her desire to share the powerful gift of music with homebound seniors is evident, and her willingness to play the piano for hours on end has demonstrated her genuine passion. It was immediately clear that Cornerstone VNA had found a true gem in Catherine, a volunteer whose positive impact radiates.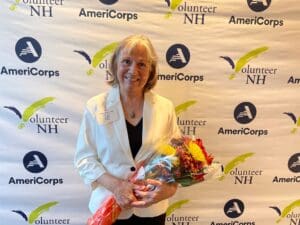 Cornerstone VNA is very fortunate to have Catherine as a Music Companion Volunteer.  She volunteered to help at a community event where we had information about the volunteer program and recruited the most wonderful companion volunteer to join our team by sharing her positive experiences. She has served as a kind mentor to this new volunteer! She always has a positive outlook on life and really brightens people's day.  She is very dependable, an excellent listener, and shows compassion and concern for the people that she visits and is a true joy. They are truly grateful for her ongoing visits, especially since moving to a new apartment adjacent to their family's house. Seeing her familiar friendly face has helped bring them a great deal of comfort and settle into their new surroundings.
Catherine's vibrant spirit and steady commitment illuminate the lives of those she visits. She is very dependable, an excellent listener, and shows compassion and concern for the people that she visits. She shares a true joyfulness in their time together. With each volunteer interaction, Catherine cultivates a sense of happiness, making her an invaluable asset to the program and a cherished friend to all.
Learn more about our volunteer program here.