During the Month of November of our 110th year, we continue our Healthcare Heroes through History blog post series with a focus on the 2010s and a spotlight on our current President/CEO, Julie Reynolds, RN, MS.
Julie Reynolds became the President/CEO of Cornerstone VNA in January 2013, the organization's centennial year.  She has 40 years of healthcare experience, including over 35 years in the home care industry. She received her nursing degree in 1984 from Northern Essex Community College and began her nursing career at Hale Hospital in Haverhill Massachusetts where she soon had an opportunity to explore home care as a nursing profession.
In 1987, she began working at Home Health VNA in Haverhill, where she found her passion for home care. She understood that providing services in the home was the best setting to educate patients on managing their own health and to help them heal faster. After moving to NH, she accepted a position at Rural District VNA (now Cornerstone VNA) in 1994 as the Nursing Coordinator.
Professional Growth and Continuing Education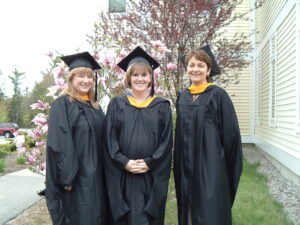 As Julie grew in her role as Nursing Coordinator, she was promoted to Nursing Director and then advanced to Clinical Director. During her time as Clinical Director, Julie was deeply involved in the merger of Rochester VNA and Rural District VNA, which took place in 2000. Her role throughout the process was to bring two organizational cultures together to form one cohesive team, which was instrumental in ensuring a successful merger. Always driven to learn, Julie earned her BS in Management from Granite State College in 2005 and her MS degree in Health Care Administration from New England College in 2008.  As the organization continued to grow, and she took on greater responsibilities, Julie was promoted to Chief Clinical Officer in 2010.
"I'm so proud of this organization, the work that so many have done over the past 110 years to make it what it is today. Board members, leadership, staff, volunteers, and passion make for a great recipe. I am so very fortunate to be a part of that recipe for success."
– Julie Reynolds, RN, MS, President/CEO
Julie understands that healthcare is constantly changing and that home care plays an important role in improving the well-being and health of the community. The cornerstone of her passion is providing education and support to engage dedicated employees. This philosophy helps drive quality patient care and gives employees the satisfaction of making a positive difference, whether in a patient's home or in the office. Patients and staff have also benefited from Julie's efforts in developing disease management best practices, which has grown into a library of disease-specific booklets that patients receive to better manage their health. Additionally, every clinician at Cornerstone VNA receives education on disease management best practices during their orientation and becomes certified in chronic care management.
When Cornerstone VNA turned 100 years old in 2013, a major gift initiative was introduced and named The Century Circle, offering an opportunity for donors to contribute to the continuing education and certification of our employees.
Community Focus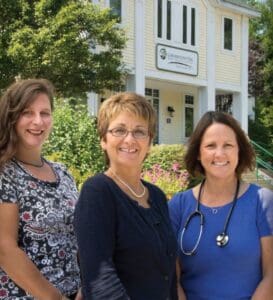 Giving back has always been a priority for Julie, and she continues to work with staff to implement programs and services that promote the health and well-being of the communities we serve. For example, she is a strong advocate of our volunteer program, and in 1998, she worked together with Cornerstone VNA volunteer Charlotte Klaubert to establish a formal program. For 25 years, our volunteers have provided companionship and support for homebound seniors and individuals in need.
Under Julie's leadership, the team at Cornerstone VNA has also developed free programs to support caregivers and free educational presentations for community members and professionals. Further, our Wellness Nurse provides free health clinics in 20 different locations across our service area towns. Additionally, our Hospice Program is a We Honor Veterans Level 5 Partner, which demonstrates our commitment to caring for veterans at end-of-life. Julie also worked with the Board's Fund Development Committee and Staff to develop a special fund, called the Kiddie Cornerstone Fund, to support pediatric patients and their families. In addition to the Kiddie Cornerstone Fund, the Norma Snow Legacy Society was established in honor of our founder, and to recognize donors who have chosen to make a lasting commitment to Cornerstone VNA through a will, trust or other planned gift. These are just some of examples of how her vision and leadership have contributed to many beneficial community programs and services. She also encourages staff to participate in local health fairs and events to ensure a constant presence as a valuable resource for our community members and healthcare partners.
Julie's commitment to the community is recognized throughout our service area, particularly with her involvement as a Trustee of Frisbie Memorial Hospital, as a Regional Council Advisory board member of the United Way of the Greater Seacoast, as past president of The Home Care, Hospice & Palliative Care Alliance of New Hampshire and through her involvement in multiple chamber organizations
Recognition
Under Julie's leadership, Cornerstone VNA has received many awards including:
The 2014 Walter J. Dunfey Nonprofit Management Award
The 2017 Non-Profit of the Year Award by the Greater Somersworth Chamber of Commerce
The 2018 Greater Rochester Chamber of Commerce Nonprofit of the Year
The 2019 Greater Barrington Chamber of Commerce Business Leader of the Year
The 2019 Business NH Magazine's Health Care Business of the Year
The 2020 Greater Dover Chamber of Commerce Large Nonprofit of the Year
The 2020 Business NH Magazine Health Care Business of the Decade
The 2020, Julie Reynolds, Excellence in Nursing Award as a Nurse Leader from NH Magazine
2015, 2016, 2017, 2019, 2020, 2021, 2022, 2023, Best of the Seacoast Community's Choice Award, Best Home Health Care
Expansion of Programs and Service Area
Since Julie's tenure as CEO, Cornerstone VNA has grown tremendously, which is her greatest personal achievement. Here are some organizational highlights that have taken place under Julie's leadership:
Since 2012, the organization's budget has grown from $6.9 million to $19 million.
In 2012, Julie worked with her predecessor to launch the only nonprofit hospice program in the area. Today, the Hospice Care program continues to thrive and grow, caring for patients of all ages.
In 2013, private duty services became its own program and was named "Life Care". Today, Life Care provides private duty services 24/7, allowing patients to stay safely in their home.
In 2014, Cornerstone VNA expanded into the Greater Seacoast Area and York County, growing the service area from 25 to 35 towns. In 2018, Wolfeboro, Ossipee and Effingham were added to meet the demand for services. Hampton, North Hampton, Hampton Falls, Seabrook, and Stratham were added to the service area in 2021 for a total of 40+ communities served.
In 2014, recognizing an unmet need, Palliative Care services were added to provide better care and symptom management for patients with chronic illnesses. The program includes Nurse Practitioners who are experienced in chronic care management and focus on improving the quality of life for patients. As an underfunded program, grants, fundraising events, and donations help offset program expenses.
Cornerstone VNA has provided Telehealth in the home for over 25 years. Telehealth is not a reimbursable program, but Julie and her team strongly believe in the benefits of Telehealth to decrease hospital readmission rates and improve the lives of patients with chronic illnesses.
On October 15, 2020, Cornerstone VNA officially broke ground on a $2 million capital project to expand our building and renovate our existing space. Since moving into our building in 2001, we have experienced significant growth, and this project was much needed to support our growing team and prepare us for future success.
Overcoming Challenges
Recruitment of clinical and private duty staff has been a big focus over the past decade and continues to receive significant attention with the growth of our aging population and the national nursing shortage. Although we have been challenged to find creative ways to recruit and retain staff in this competitive healthcare environment, Julie feels confident that our strong reputation among our community members and referral partners will help us in our ongoing recruitment efforts. Further, she is always mindful of fostering a positive work culture and recognizing and appreciating the work of our team. This care and attention have created an environment where both staff and volunteers feel supported and valued. As a result, many of our employees have celebrated milestone work anniversaries, growing and developing in their roles and even encouraging other healthcare professionals to join our team. Her managers look up to her as a role model and lead their own teams by following her example.
"Not everyone can say they love the people they work with or the job they go to every day. But I have been able to do this throughout my career. I started my career in home health back in 1987 and that is when I fell in love with my job as a nurse. My move to NH brought me to this organization, which was a positive move for me. I've grown in so many ways and continue to learn from others, so we are successful together." – Julie Reynolds, RN, MS, President/CEO
2020 was a historical year, not only for Cornerstone VNA, but for the world. The COVID-19 pandemic became a reality for our region in early March 2020, and thanks to our emergency preparedness efforts, we were well-prepared to weather this unprecedented public health crisis. We sprang into action to ensure the health and safety of our staff, our patients and the community. Although we were urged to stay apart for our health and safety, we found creative ways to still feel a sense of community, and we continued caring for patients without skipping a beat. Julie's steadfast leadership and support of our staff guided us through this challenging and uncertain time.
Cornerstone VNA is fortunate to have Julie's passion and leadership. Her dedication has earned Cornerstone VNA several accolades and has helped position the organization for continued success.