Maureen E. Steer MDiv, Holistic Disciplines Manager at Cornerstone VNA, is proud to share that her beloved Australian Shepherd, Lucy, has recently achieved certification as a therapy dog. Lucy's training was comprehensive, and she graduated with great reports. Starting as a puppy, she trained for over a year and became certified as a K-9 Good Citizen by Inspire K-9 in Barnstead. She was officially certified as a therapy dog by Love on a Leash, a national program. According to Love on a Leash, "A therapy pet is trained and certified with its owner as a team to provide comfort and stress relief to others in a variety of situations."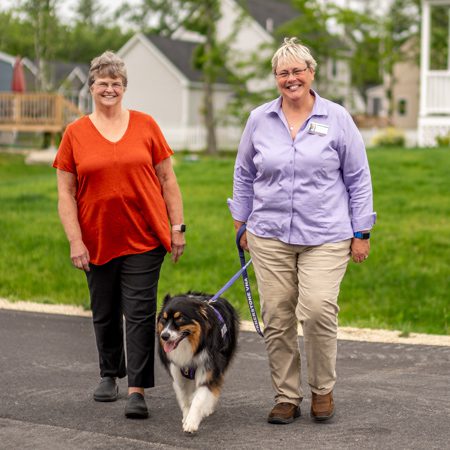 Lucy will now be lending her compassionate presence and unwavering support to Hospice patients. Moreover, she will play a special role in bereavement sessions and group grief support meetings, offering comfort and solace to those in need. The addition of Lucy to the Cornerstone VNA team will undoubtedly enhance their ability to provide holistic care and bring moments of joy and healing to those they serve.
Lucy has spent the last year working on a variety of competencies and situations in the community and in the Cornerstone VNA office, where she was surrounded by a supportive and caring team. Whenever Lucy arrives at the office, team members can be heard exclaiming, "Oh good, I needed a Lucy day today."
Cornerstone VNA is proud of the response they've received from this wonderful Therapy Dog Volunteer duo of Maureen and Lucy. Katherine Michaud MS, OTR/L, Cornerstone VNA Behavioral Health Coordinator explains, "Pet therapy dogs provide comfort, encourage communication, decrease stress, and reduce loneliness. A visit from a dog can really brighten someone's day."
The pet companion volunteer opportunity is a wonderful way for volunteers and their dogs to provide support and friendship to patients and community members. For more information about the pet companion volunteer team, contact Ann Vennard at 603-994-6941 or [email protected].